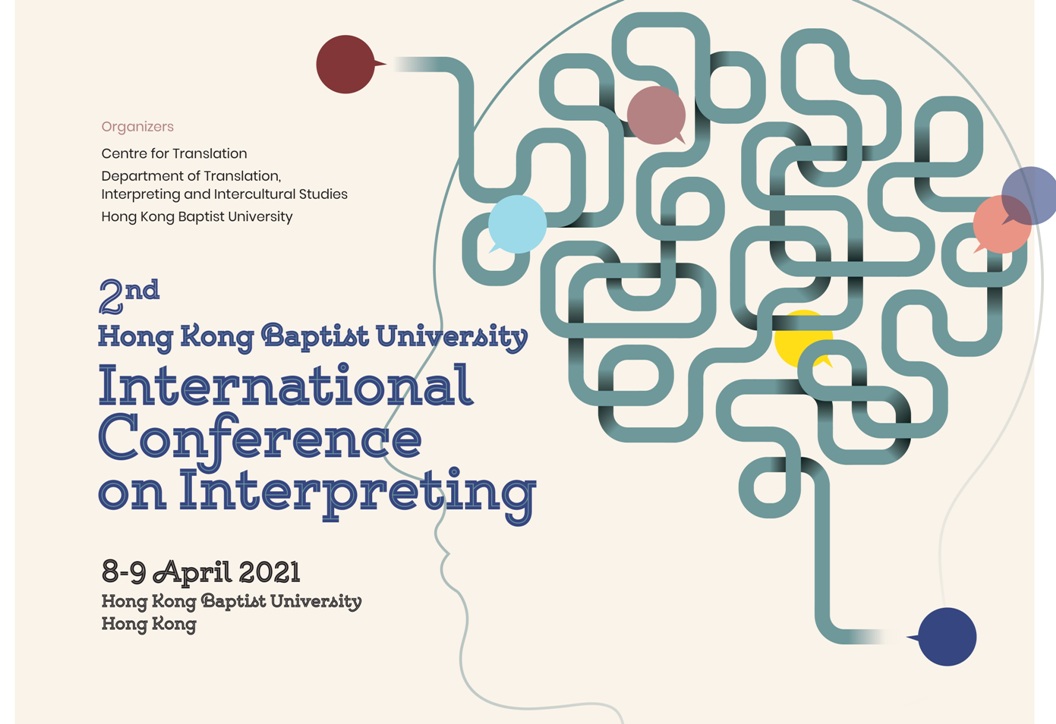 About the conference
Second Hong Kong Baptist University International Conference on Interpreting
(To be held both online and in-person)
Theme
COGNITIVE APPROACHES
Dates
8-9 April 2021
Venue
Dr. Wu Yee Sun Lecture Theatre (WLB109)
Shaw Campus
Hong Kong Baptist University
Organizers
Centre for Translation
and
Department of Translation, Interpreting and Intercultural Studies
Hong Kong Baptist University
Cognitive approaches to studying interpreting have been one of the main streams of research in Interpreting Studies since the 1970s. Recently, as new perspectives continue to form and new methodologies continue to be adopted and as a result of increasing inter-disciplinary cross-pollination, the field of Interpreting Studies has seen a resurgence of cognition-related research, not only in spoken language interpreting, but also in signed language interpreting. Riding on this exciting new wave and continuing our tradition of having a targeted theme, we aspire to use this platform to bring together top and promising scholars in both spoken language interpreting and signed language interpreting to Hong Kong.
This conference is the second "Hong Kong Baptist University International Conference on Interpreting". The first conference was held in 2017 with the theme History of Interpreting.
New Arrangement: The conference will be held in mixed modes. It will take place on the campus of Hong Kong Baptist University and online via Zoom Webinar.
---
Committees
Organizing Committee
LIU Min-hua (Conference Chair), Hong Kong Baptist University
Robert NEATHER, Hong Kong Baptist University
Mark SHUTTLEWORTH, Hong Kong Baptist University
ZHAO Nan, Hong Kong Baptist University
Programme Committee
Michaela ALBL-MIKASA, Zurich University of Applied Sciences, Switzerland
Agnieszka CHMIEL, Adam Mickiewicz University, Poland
DONG Yanping, Zhejiang University, China
Damien FAN, National Taiwan University, Taiwan
Adolfo GARCÍA, Cognitive Neuroscience Center, UdeSA, Argentina
LIU Min-hua, Hong Kong Baptist University, Hong Kong
Brooke MACNAMARA, Case Western Reserve University, USA
Christopher MELLINGER, University of North Carolina at Charlotte, USA
Brenda NICODEMUS, Gallaudet University, USA
Franz PÖCHHACKER, University of Vienna, Austria
Elisabet TISELIUS, Stockholm University, Sweden
This conference is endorsed by TREC.
---
Keynote speakers
Speaker:
Adolfo GARCÍA
(Cognitive Neuroscience Center, UdeSA, Argentina; Global Brain Health Institute, UCSF, USA)
Title:
What's Special about the Interpreter's Brain? A Neurocognitive Tale of Expert Bilingual Processing
Abstract:
Within the vast bilingual population, simultaneous interpreters (SIs) stand out by the elevated processing demands they face in professional settings. The need to comprehend oral discourse in one language and render it in another as it unfolds, under strict time constraints, pushes verbal and non-verbal mechanisms to their limits. Therefore, SIs offer a unique model to assess how capable the bilingual brain is for experience-driven changes under stringent circumstances. In this conference, I will review multiple studies to answer three relevant, overarching questions: (a) how do the neurobiological systems mediating bilingual cognition adapt to the extreme demands faced by SIs?; (b) which of the associated verbal and non-verbal functions evince behavioral enhancements in this population?; and (c) what are the immediate challenges in this flourishing research field? In brief, this is an invitation to understand how extreme bilingual experiences influence cognition at large and, more generally, how the human mind adapts to the particular demands we may place on it.
About the Speaker:
Adolfo García, Ph.D., is an expert in the neuroscience of language and social interaction. He serves as Associate Professor and Co-Director of the Cognitive Neuroscience Center (Universidad de San Andrés, Argentina), Atlantic Fellow and Associate Specialist at the Global Brain Health Institute (University of California, San Francisco), Adjunct Researcher at the National Scientific and Technical Research Council (Argentina), Adjunct Professor of Neurolinguistics at the Faculty Education of the National University of Cuyo (Argentina), member of the Management Committee of the "Translation, Research, Empiricism, Cognition" (TREC) Network, honorary member of the Center of Cognitive Neuroscience at La Laguna University (Spain), and High-Level Talent appointed by the Ministry of Science and Technology of China. He has received training in cognitive neuroscience, translation, and foreign-language teaching, alongside postdoctoral studies at the Institute of Cognitive Neurology (Argentina) and research stays at New York University and Rice University (United States). He now leads research projects in over ten countries across the globe. Moreover, he serves as Director of the Master's in Language and Cognition, a postgraduate program he created at the National University of Cuyo. His teaching career includes graduate and postgraduate courses in Argentina, Chile, Colombia, the United States, Germany, the United Kingdom and China. He has more than 170 publications, including books, chapters, and papers in leading journals, mainly focused on neurolinguistics and bilingualism. He has offered more than 150 presentations and speeches at international academic meetings and science dissemination events. Moreover, he is the host of the TV show "Of brains and words" and of a radio column titled "Mind and communication". His scientific contributions have been recognized by awards and distinctions from the Linguistic Association of Canada and the United States, the Ibero-American Neuroeducation Society, the Argentine Association of Behavioral Science, and the Legislature of the City of Buenos Aires.
Speaker:
Brooke MACNAMARA
(Case Western Reserve University, USA)
Title:
Interpreting as Complex Human Performance: The Role of Cognitive Abilities, Experience, and Task Demands
Abstract:
Interpreting involves multiple cognitive processes and recruitment of linguistic, social, and content knowledge. Moreover, interpreting is considered a skill practiced in "wicked" (rather than "kind") environments. That is, we have limited control over the content we interpret or the pace of the speakers, we cannot predict exactly what will be said in the next few minutes, and we will likely never interpret the same content in the same context ever again. Despite this, some interpreter trainees develop robust interpreting skills and some professional interpreters excel in a variety of interpreting settings. In this address, I will discuss interpreting through the lens of complex human performance. This lens takes into account cognitive factors, experiential factors, and the role of task demands. I will give background on existing theories of skill acquisition and expertise, then will explain newer research that better accounts for the complexity of interpreting. With this research, we can move toward a better understanding of interpreter expertise.
About the Speaker:
Dr. Brooke N. Macnamara has degrees in American Sign Language-English Interpreting (B.A.), Interdisciplinary Studies (M.A.), and Psychology (M.A. and Ph.D.). After graduating from an interpreter training program and receiving her national certification in interpreting, she worked full time as an American Sign Language-English interpreter in Chicago, IL for seven years. During this time she became interested in cognitive aptitude for interpreting and completed an M.A. in Interdisciplinary Studies, focusing on cognitive psychology and interpreting theory. In 2008, she turned her attention full-time to research, pursuing a M.A. and a Ph.D. in cognitive psychology at Princeton University. There, she began investigating individual differences in cognitive abilities and experience as predictors of interpreting skill. After receiving her Ph.D. in 2014, Dr. Macnamara joined the faculty in the Department of Psychological Sciences at Case Western Reserve University where she directs the Skill, Learning, and Performance Laboratory and the Bilingualism and Communication Performance Laboratory. She currently researches predictors of skill acquisition and expertise across a range of performance domains.
---
Call for papers
We welcome oral presentations and posters on both basic and applied research that fit the sub-themes of the conference or that are related to the conference theme in a broader sense.
Sub-themes:
bimodal and unimodal bilingualism and their implications in interpreting studies
modality (bimodal or unimodal) effects in interpreting
cognitive processes and constructs in different modalities and modes of interpreting
neurological substrates of interpreting
attention and memory in interpreting
cognitive workload in different modes of interpreting
cognitive considerations in machine-aided interpreting
cognitive abilities as interpreting aptitude
cognition-informed training of interpreters
skill acquisition and attrition in interpreters
interpreter's cognition throughout the life span
The language of the conference is English.
Length of presentations: 30 minutes (20 minutes for presentation and 10 minutes for discussion)
Poster presentation sessions will be held during the conference breaks. Poster presentation guidelines will be sent with the notification of acceptance.
Submissions must include the following information:
name of author(s)
affiliation
email address
title and an abstract of 300-400 words
3-5 keywords
short author biography of 50 to 100 words
All submissions must be submitted in Word 2010 or later versions to ctn@hkbu.edu.hk by 6 January 2021 (deadline extended). Notifications of acceptance will be sent by email by 13 January 2021.
---
Registration and fees
Registration is required for all presenters and participants of the conference. Co-presenters do not need to register unless they plan to participate in the conference.
Poster presenters can only join the conference in person.
Pre-conference workshop participants, whether attending the conference or not, are required to register.
Revised Conference Fee for Presenters* (in Hong Kong Dollars, HKD)
| | | |
| --- | --- | --- |
| Rate | Student | Non-student |
| Online | $400 | $1,000 |
| In-person | $600 | $1,500 |
*Early bird rates has been cancelled as the fees have been adjusted.
Revised Conference Fee for Non-presenting Participants (in Hong Kong Dollars, HKD)
| | | |
| --- | --- | --- |
| Rate | Student | Non-student |
| Online | $100 | $100 |
| In-person | $150 | $350 |
Pre-conference Workshop Fee
HKD300
Registration and payment can be completed through the registration form (available here).
Presenters joining the conference in person will be offered a conference pack, campus Wi-Fi access, coffee and tea at breaks as well as lunches during the two-day conference. Each online participant will be issued a unique link to access the conference online. All fees are non-refundable and non-transferable. The fees do not cover travel, accommodations, the conference dinner or meals not specified.
A letter of invitation will be provided upon request to registrants who have completed their registration.
Registration fee of colleagues and students of Hong Kong Baptist University will be waived but registration is still required by completing and returning the conference registration form.
---
Important dates
Call for papers: 15 August 2020
Deadline for submission of proposals: 6 January 2021 (deadline extended)
Notification of acceptance: 13 January 2021 (revised)
Registration of presenters: December 2020 - end of February 2021
Registration of participants: until mid-March 2021
Registration for pre-conference workshop: until 31 March 2021
Programme available on-line: early March 2021
---
Accommodations
The two accommodation options (on-campus and off-campus) are listed below for conference presenters and participants. Please refer to the details of each accommodation option. Room reservation must be made directly with the hotel by completing the relevant reservation form and returning it to the hotel of your choice by email. Enquiries should be made directly to the hotels by email. Please note the cancellation policy of each accommodation option.
On-campus option: Dr Ng Tor Tai International House
The University guesthouse is in a very convenient location, just a 5-minute walk to the conference venue.
Period of Stay: any dates between 6 April and 10 April 2021
Deluxe Room Rate (per night): HKD920, including all taxes and fees
Deadline for Reservation: 7 February 2021
Email / Inquiry: alicekan@hkbu.edu.hk (Ms. Alice Kan)
Link to Reservation Form
Remarks:

Complimentary in-room wifi with unlimited access

Off-campus option: Royal Plaza Hotel
The hotel is a 10-minute metro ride away plus a 10-minute walk from the campus. It is also a 5-minute walk to Mongkok, a vibrant area of Hong Kong.
Period of Stay: any dates between 6 April and 10 April 2021
Room Rate (Plaza Deluxe Room with King-sized bed per room per night): HKD800 (+10% service charge) (Room rate will be different after the reservation deadline. Please check directly with the hotel.)
Deadline for Reservation: 5 March 2021
Email / Inquiry: vivianchiu@royalplaza.com.hk (Ms. Vivian Chiu)
Link to Reservation Form
Remarks:

The above room rate is the same for single or double occupancy.
Complimentary wifi with unlimited access
Complimentary in-room tea / coffee set
Complimentary use of Definition Health Club - gymnasium, outdoor swimming pool, Jacuzzi, sauna and steam bath

Participants who wish to choose other accommodations will find a range of options on tourist information websites such as the Discover Hongkong.
---
About the pre-conference workshop (in mixed modes)
Journal Publication: A Dialogue between Authors and Editors
Moderator
LIU Min-hua
Date /Time
7 April 2021, 2:30-5:00pm
Fee
HKD300
Venue
Dr. Wu Yee Sun Lecture Theatre (WLB109)
Shaw Campus
Hong Kong Baptist University
In this workshop, highly experienced journal editors and authors will share their experience in publishing in reputable peer-reviewed journals in and outside the field of Interpreting Studies. Designed for postgraduate students and young scholars, this workshop provides an opportunity for an open dialogue in a structured yet casual manner with the aim of having the participants' questions on journal publication answered.
This workshop welcomes non-conference participants. For registration, please go to the Registration and Fees section.
---
Contact us
For enquiries regarding the conference, please contact the Centre for Translation, Hong Kong Baptist University at:
---